This very simple PowerShell script can be used to set these options:
DNS Suffix for this connection
Register this connection's addresses in DNS
Use this connection's DNS suffix in DNS registration
I've seen many questions online on how to use a script to mark the two checkboxes in this "Advanced TCP/IP Settings" window.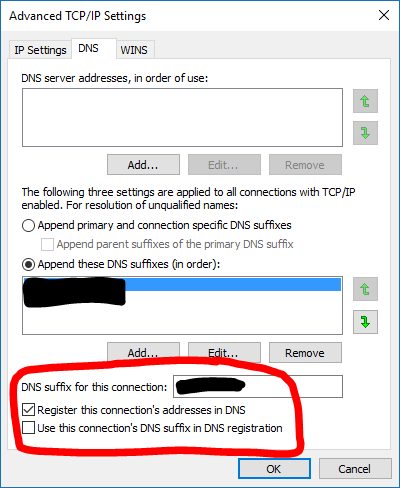 So here is the very short and simple PowerShell script:
$networkConfig

=

Get-WmiObject

Win32_NetworkAdapterConfiguration

-filter

"ipenabled = 'true'"

$networkConfig

.

SetDnsDomain

(

"clients.ad.company.com"

)

$networkConfig

.

SetDynamicDNSRegistration

(

$true

,

$true

)
The first line gets the adapters with a valid IP address. The second line sets the "DNS suffix for this connection" field. The third line enables each of the two checkboxes – if you change one of the $true values to $false, it will uncheck the corresponding checkbox. Finally, the last line simply updates the new settings in DNS without the need to restart the machine or anything like that.
This script can be deployed by SCCM as a package or an application, for which you can use this application detection method.